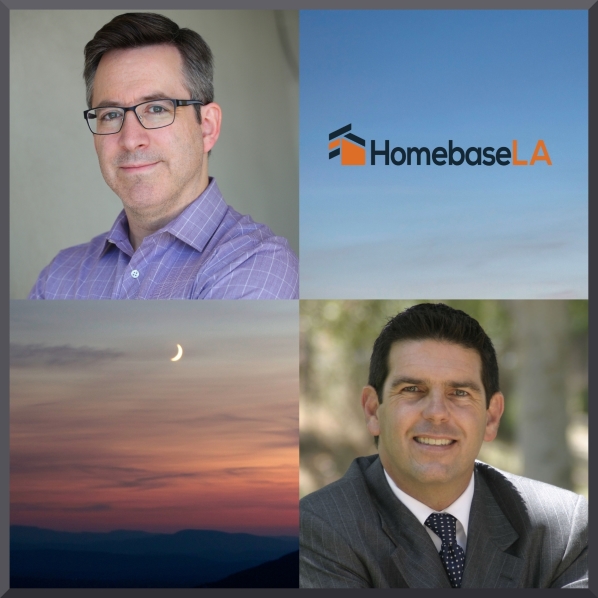 In our opinion, the best way to judge the value of any Realtor, is to see what their clients have to say about them...
"Brad & Ron really know the real estate industry and how to take care of their clients' needs. Thy are the best realtors with whom we have ever worked - and we've worked with a few! When preparing to list our home, they met with us to discuss the market, repairs to be made before listing, and the overall process. They offered staging advice that other agents did not, and gave us excellent pricing strategies that were both realistic and effective. We sold our home in one day, and got the full price we were asking! Ron and Brad were committed to keeping our interests in mind throughout escrow as well. If we had tried to do this on our own, the sale would have surely fallen through. Brad & Ron knew that this was a stressful & emotional time for us. They offered us only sage guidance and responsive care. We never worried, because we knew we were in good hands.
When it came to our search for a new home, Brad made the process efficient & fun. He kept us apprised of the properties that matched our criteria as soon as they became available & he helped us to focus our search on the right type of home & price range for us. He made himself available to us on our tight schedule & was always professional, friendly and insightful. With Brad's help, we found the perfect home. He helped us to see past cosmetic fixes and made suggestions that were key to completing our project of turning a 1981 townhouse into a modern & architecturally distinctive home. Brad further helped us in deciding upon an offer amount that won us the property at an amazing value without the process sinking into endless dreaded negotiations and counters. Past agents we have used would say things like "offer what makes you comfortable" - that NEVER helps those of us who are not in the real estate industry. Instead, Brad knew our budget and guided us to a number that would not be so low as to offend the seller (we didn't want him to walk away from the process), but that would still be a great deal for us. It was a smooth transaction thanks to Brad. He took good care of us. We recently recommended RE/MAX-Empower to some friends and, using Brad as their realtor, they now own their very first home! We will keep recommending Brad & Ron. They know their business - Los Angeles Real Estate, and taking good care of their buyers & sellers."

- Rae Dawn Hadinger




"I have nothing but wonderful things to say about Brad and Ron. My husband and I owned a condo and were ready to sell and upgrade to a single family home. From the very first meeting with Brad and Ron we felt that we were in good hands. Being a first time home buyer, we had a lot of questions about the process and Brad always took the time to make sure we fully understood everything from the selling of one to the buying of the other. We always felt that he had out best interest at heart. He was on top of every little detail and would answer our calls and emails immediately. Not only extremely professional, but very personal and pleasant to work with."

- Lisa L.
"I'm the proud owner of a condo since 2012 that I purchased with the indispensable help of Brad Reed. Brad was not only indefatigable in his efforts, but also pursued everything with humor and a relaxed manner that put me, a first-time home buyer, completely at ease.
Brad was extremely conscientious. In fact, I actually had put a deposit down on a place that I really liked and during the inspection process it was discovered that the outdoor patio (one of the major selling points of the property) was to require major repair. Brad phoned me and said "I can't in good conscience recommend you buy this property..."
Apparently, Brad informed me, I would be dealing with thousands of dollars in repairs not factored into the asking price, and who knows what kind of red-tape with the HOA (all patio units needing to be uniform with the other units). I reluctantly passed on the property under Brad's guidance. I trusted Brad that didn't just want to make commission off a sale. Brad wanted me to have the best possible home and home buying experience. I couldn't have been more right.
A week later Brad helped me find a place that was even BETTER than the one I had originally put a deposit on! He shepherded me through dealing with whacky sellers, the craziness of other realtors, and through all the paperwork the whole way through. Anyone looking to have a great home buying/selling experience, I would highly recommend Brad Reed and Ron Roth."

- Adam B.




"Thanks to Ron Roth, when he worked as a buyer's agent for a firm in Pacific Palisades, I purchased, in June 1999, a two-story house with a Cape Cod architecture in Chatsworth. Although I sold the house in July 2004, I loved that house very much. Furthermore, my ownership of that house helped make it possible for me to stop working at a fairly young age. Thank you, Ron!!!!!"

- Steven H.




"Brad Reed was of invaluable help to me in purchasing a home in 2009. I was not only a first-time home buyer, I had just suffered a personal loss. Brad was extremely knowledgeable, unfailingly courteous and good-humored while I looked at over 100 houses (!!), patient, kind and supportive. He went out of his way to explore neighborhoods I suggested (which were off the beaten path then), as well as expanding my knowledge of possible locations. He listened while I made decisions and then revised them, and then revised our strategies accordingly. He took my queries and concerns seriously. He never pressured me to think above my budget and he taught me many things to watch for and consider, not only in home buying but home owning. Things I still keep in mind. And he made the paperwork seem easy -probably because he took care of most of it! And he was genuinely happy for me, and helped me celebrate, when I finally found my house - which I still love. On top of all this, Brad is clever and fun and and helps you remember that even along the sometimes rocky road of house hunting and buying, there are always laughs to be had, and searching for a home is interesting and exciting."

- Catherine O.





"From start to finish you guys were fantastic. I have never wanted/needed better service in my life. Stick with what you are doing. I will recommend you to any and all"

- David H.
"My wife and I were looking to purchase a house during a seller's market. We were interested in a house that was very desirable with many bids already. With both my wife and I being doctors, we had certain special needs of a Realtor. Not only do we feel that Ron Roth made the difference in the seller choosing us, he exceed our expectations along the entire course of the purchase! His professionalism, integrity and genuine passion of his profession set him apart from the pack. He really understood our needs as medical professionals and the details of our business. I continue to use Ron Roth as my exclusive agent be it personal or business endeavors."




"I really enjoyed my experience working with Brad Reed, and HomebaseLA in general. Brad successfully guided us through many of the pitfalls of home-buying, tirelessly searched for good homes in our budget, diligently researched potential opportunities and joyfully celebrated with us when escrow closed on our first new home. My husband and I couldn't have been more pleased with the level of service, commitment and knowledge."

- Jeana Taylor




"Working with Brad and Ron was a pleasure from start to finish. As first time buyers, we were, of course, new to the whole process. They were very patient and helpful in making sure we understood how the entire process worked. We never felt pressure. They always had our best interests at heart and we never felt pushed into making decisions. We would (and have) recommended Brad & Ron to other people looking to buy or sell their homes, without reservation!"

- Scott D.


A few years ago I had the pleasure of meeting a man named Ron Roth.

He is in the real estate profession. I purposely use the word profession as he is a professional NOT a salesman. If what you want is a hard working, honest, ethical representative...Ron Roth is your man. I have referred many people to Ron, and I can honestly say that every one of them has been very pleased with him.

I personally have purchased two properties directly through him, and have leased & sold several more through him.

I would not use any other real estate person, other then Ron."

- Wendell Jackson, Retired
"I worked with Brad Reed on a condo purchase at the end of 2008. I was unfamiliar with LA, and had only two 4-day trips in which to decide which neighborhoods to search, and then to put an offer on a place. Brad facilitated all the madness with unfailing good humor, in-depth knowledge and unflagging cooperation and assistance. He listened to my needs, made suggestions, and then listened to my feedback on those suggestions. We truly worked together every step of the way.
I've been in my condo for over five years now and I couldn't be happier with the home Brad helped me to find. I would recommend Brad without hesitation to anyone looking for a place to call home - he is a pleasure to work with, and knows his stuff!"

- Sam A.





"Ron,
Congratulations on your great work on selling our home so quickly and in such a professional manner. We truly appreciated your professional advice and guidance through this process."

- Robert Balbuena, Attorney
"I've known Brad for over 20 years and he is the best Realtor I have ever known. Honest, sincere and easy to work with."

- Deborah Hartman
Just a note of appreciation for the wonderful job you did in making my first home purchase a positive experience. Your patience and attentiveness in finding that perfect house with "curb appeal" along with the effort and accessibility you gave through out the closing process (and beyond) was a great comfort. Ron, your professionalism was first class and your performance level was always 100%. Thank you again for all of your help.

I'll be sure to refer my friends and co-workers to you, as well as call on you again possibly in a few years."

-
Kenny Micka, TV Producer
"Brad was friendly, professional and very knowledgeable regarding the area.…He was available not only before the sale, but after the sale as well.…I hope to work with Brad again in the future."

- Sheila Lozano
Mr. Roth was very helpful from the beginning of the home hunting process.

He made useful suggestions that helped me organize my thoughts and determine what type of home I really wanted.

He promptly answered all of my questions, no matter how trivial the inquiry.

Mr. Roth thoroughly explained the steps required and the possible outcomes of my offers.

He put a good deal of effort into making the offers as attractive as possible.

I feel his experience and attention to detail allowed me to get a high quality home for the amount of money I could pay.

During the escrow period, Mr. Roth continued to work for my interests, answering my questions and generally facilitating the prompt transfer of title."

-

Michael E. Wilford, CPA

"Brad was excellent in leading us through the process of purchasing our first home. He was very patient and informative. We trusted him 100%. Burbank is one of the toughest neighborhoods to buy in because housing inventory is so low, but he managed to find something for us within our budget and our desired area. Truly satisfied with his services and our purchase. Our best investment to date."

- Jenny C.
In looking for a Realtor, we needed someone who would listen and hear all of our specialized requirements and there were many. In the months that followed he persevered by showing patience, humor and

a professionalism throughout.

With the multiple offers, the defects and the needle in the haystack, we finally found the "winner".

We value Ron's opinion and diplomacy and would not hesitate to use him in another transaction or recommend him to anyone who is serious about acquiring a home."

- Richard Staller, Graphic Artist




"I've worked with Brad for several years now and he has continuously shown excellent service to his clients, always being very pleasant, and removing the pressure from the purchase/selling process. I would recommend Brad to anyone looking to buy or sell their home."

- Kelly Lynch, KPL Select Mortgage


"Brad displayed a willingness to take extra time to clarify and explain the process. Thanks!"

- David Callaghan